03 Nov 2022
WideTech welcomes Discube
With the month of September, key projects often resume.

Among our many projects, well-being at work and team alignment are priorities.

In this exercise of continuous improvement, we welcomed the Discube team for a "Serious Gaming" session.

The opportunity for everyone to speak up their mind, to clarify each other's expectations, but also to define clear objectives as a person, as a member of a team and as a company.

A collegial work mixing humor, efficiency and transparency which we are convinced, marks a new step towards strengthening everyone's well-being at work.

So thank you to the #Discube team for their support and to all our colleagues for their participation and enthusiasm.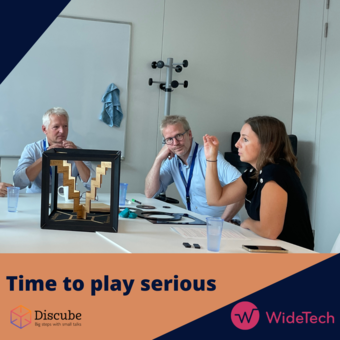 17 Oct 2022
WideTech is pleased to announce that we are expanding our partnership with Arkema
We will be deploying WiDE, our proprietary data management software, to Arkema's production plant in Changshu, China, in order to increase the accuracy and efficiency of its production accounting and monitoring processes.

This is also an exciting first for WideTech as this collaboration represents our first deployment within China !
12 May 2022
WideTech and PEPITe join forces at Indumation 2022
Join Hervé Closon from WideTech and Philippe Mack from PEPITe on May 19th in Kortrijk for Indumation 2022!
Indumation is an annual forum that gathers factory, process, and infrastructure automation experts from all around Belgium as they present their cutting-edge work for the benefit of all. It is a wonderful opportunity to meet and get inspired by industry leaders and technological pioneers.
We can't wait to see you there!