15 Mar 2021
WiDE V2.11: Going for open-source relational database
With this new release, WiDE is now featuring PostgreSQL, the World's Most Advanced Open Source Relational Database. So now, it is up to you to configure your WiDE database in MS-SQL or in PostgreSQL to store your data. It brings more flexibility to WiDE infrastructure while lowering the cost of ownership.
You will also benefit from the following brand new features:
A new diagnostic page that shows the status of online / reprocessing tasks on a group by group basis
A contextual help allowing the user to access directly relevant documentation topics according to selected page and user role
New event based actions triggered based on alarms and quality issues
Performance improvement when loading data in dashboards
A new way to upload your preferred engineering units
A new model integrity page that brings WiDE to a new level of quality improvement. Not only it makes sure that you are using the right data, it now ensures the quality of the application itself, by detecting calculation loops, missing mapping of identifiers or incoherence in dashboards configuration
As always, new dashboard widgets to improve data visualization
And more…
To illustrate WiDE, see below screenshot of an Oil Flow Metering application developed based on WiDE for Total E&P. These applications aim at validating / monitoring Multi-Phase Flow Meters (MPFM) in combination with Virtual Flow Measurement techniques in view of
Detecting wrong measurements having an impact on oil production rates, gas/water injection rates and finally reservoir behavior
Helping focusing on measurements that need to be maintained
improving back allocation and MPFM information in the same application.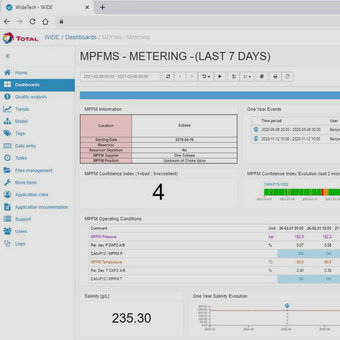 25 Oct 2020
WiDE V2.10: Empowering data thanks to Python 3.8
With this new release, WiDE is now embedding Python version 3.8 opening the door to SciPy, a Python-based ecosystem of open-source software for mathematics, science, and engineering. Don't be afraid, installing this new WiDE release won't force you to rewrite all your Python scripts as both Python environments (version 2.7 and 3.8) are working seamlessly allowing you to work with the environment you prefer and/or to move step by step from one version to the other.
But version 2.10 is more than just the integration of Python 3… It features:
A new Markdown editor to ease the documentation of your dashboards
New dashboard widgets to improve data visualization… To name but one, the alarms heat map allows you to show the frequency of alarms as color by group. The variation of color intensity gives you obvious visual cues about how the alarms are clustered over your groups
An brand new Task Scheduler to automatically launch actions like reprocessing tasks on event
A new connection point to Talk2M DataMailbox to increase connectivity with third-party data sources
Updates of third-party libraries used by WiDE to their latest version, for more secure and efficient operation
And more…
To illustrate WiDE, see below screenshot of our software presented by Yara Tertre, one of our customers, during the sessions dedicated to the BEMAS Asset Performance 4.0 Award 2020. If you need more information, please feel free to connect…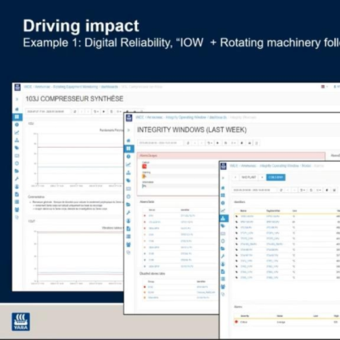 20 May 2020
WiDE V2.9: Supporting business continuity !
Business continuity is one of the major challenge these days. More than ever digital tools are there to help you exchange information/knowledge, ease collaboration, and in the end take actions to produce in safe and efficient conditions. During these last 6 months, we've worked hard on our WiDE platform and we are very happy to announce that we have just released the version 2.9 with following new features:
A brand new ticketing system to allow users to create tickets, assign actions to their peers and follow-up progress in view of putting in place continuous improvement processes
An improved data interface to business systems (SAP) to export production figures, production losses, etc. in their context
A better user management system to support the ticketing system and ease to know in which applications users have a role
New dashboard widgets to improve data visualization (approval table, gauges, etc.)
Parallelization of online jobs to improve performance when running several WiDE applications on the same server
An enhanced security system where password policy is now aligned with NIST guidelines
And more…
If you need more information, please feel free to connect… We will be pleased to answer the questions you may have regarding our WiDE software.