W
i

de
---
INTRODUCTION
Imagine a web-based platform where you would easily explore your multiple databases, extract in a few clicks the data you need and structure it the way you want.
Imagine this platform would automatically acquire, validate and cleanse the data.

Imagine it could calculate production balances, asset efficiencies, process yields or interface with other commercial or legacy software.
Imagine this platform would make sure your assets remain within defined Integrity Operation Windows and warn you about deviations, efficiency losses and their financial impact.
Imagine you could configure dashboards presenting this information the way you want to see it according to your role.
Imagine you could easily interact with this application and share knowledge with your colleagues throughout your organization, and this in an out-of-the-shelve product.
_________________
W

i

DE software is doing exactly that in various industrial sectors, from Oil & Gas to Space or Food industries.
---
CONNECTING PEOPLE, DATA, MODELS
_________________
In this age of Artificial IntelIignce and digitalization, the key role of people is often forgotten.
Yet the most important success factor of digitalization projects is end-user acceptance.
WiDE has been designed to enable end-users to fully master their application and take ownership. WiDE applications show the right information to the right people at the right time and drive them to take appropriate actions when required.
Users don't spend time anymore gathering data, trying to interpret them and detect issues. They can now spend time on solving the detected issues. They can easily define and track action items in a collaborative environment aiming at solving problems and improving the process operation and performance.
ENSURING THE QUALITY OF YOUR DATA
_________________
People are overhelmed with data of varying quality. Thanks to its embedded data validation algorithms and workflows, WiDE makes sure that quality issues like missing or inaccurate data are detected before people use them. Whenever possible thanks to the redundancy of information, the data are automatically corrected using various algorithms like back allocation, reconciliation, voting systems, etc.
Operators themselves can be associated to this validation process by reviewing aggregated and prequalified data and making the final adjustements.
The system even includes a configurable multilevel approval system that will freeze data as soon as they have been reviewed so you can make sure the right data are being used and possibly transferred to third party applications like ERPs.
INTEGRATING HETEROGENEOUS SYSTEMS
_________________
Data are often disseminated in various systems, with various formats and frequencies, and people struggle to gather all the required information in a central place.
Completely agnostic, WiDE can read data from various sources through various interfaces and mechanisms and it can even handle manual inputs where required.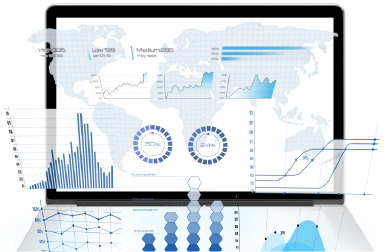 DATA MADE EASY
_________________
The good news is that WiDE applications can be deployed and maintained without the need of a software development team. All configuration work can be done through the same WiDE Web interface by yourself after only a few days of training:
Creating applications
Building models
Connecting to various data sources
Defining users, roles and validation / approval workflows
Designing dashboards and reports
Defining alarms and triggering emails
The only part where you will need to write some lines of codes is to define your calculation equations. You will however quickly realize how easy it is to learn and use the embedded Python language, and this even if you're new to programming.
Of course, WideTech team is always available to guide you in deploying and expanding your applications. We also rely on integration partners to help you getting quickly your first results with WiDE and starting to exploit properly your data asset.
Don't wait, start small, grow fast and think WiDE.