01 Dec 2023
Automa 2023
On November 28 and 29, we'll be exhibiting at the Oil & Gas Automation and Digitization Congress (AUTOMA 2023). This annual B2B event is a must for oil and gas industry professionals, covering all aspects of the value chain: Upstream, Midstream, and Downstream.

A unique networking platform

AUTOMA 2023 is not just a congress, it's a massive two-day networking platform, bringing together key market players: oil and gas companies, EPC contractors, drilling operators, pipeline operators, service providers, and equipment manufacturers.

Join us !

We invite you to join us at Automa 2023 to discover how WideTech is shaping the future of the oil and gas industry through digitalsation. Come chat, exchange ideas, and explore collaboration opportunities with Bruno Vrielynck and Hervé Closon.

#WideTech #WiDE #AUTOMA2023 #AUTOMA #GasAutomation #Digitalisation #Industry40 #Event
27 Oct 2023
Our 10 years at Naxhelet
Last Friday, at Naxhelet we celebrated our 10 years at your side.
10 years of risk and success. So, to each of you who took the time to join us, we'd like to say "Thank you".

From the warm welcome to the superb view of #Naxhelet, from the inspiring words to the walking dinner, every moment was a perfect illustration of what WideTech stands for: innovation, sharing and collaboration.

Our speeches, demonstrations together with your smiles and encouragement throughout the evening confirmed the feeling that we belong to a close-knit community. Thank you for sharing our enthusiasm by discovering WiDE's evolution and new features.

To our partners, our users, our community: thank you for being part of this journey so far. And to those who weren't able to join us, we sincerely hope to see you at our next events.

Until then, let's stay the course, move forward together, and continue to create magic moments !

One thing is clear: the best is yet to come !

:camera_with_flash:: Sven Hanssen :sparkles: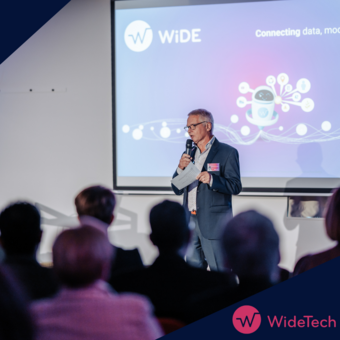 03 Oct 2023
Abiss 2023 at Kortrijk Xpo Meeting Center
On October 5th, we'll be present at #ABISS2023, the largest event dedicated to the digitalisation of the industry in Belgium, taking place at Kortrijk Xpo Meeting Center, Hall 3. We'll be there to engage in discussions, share ideas and explore the latest innovations in the field of smart and connected factories.

If you share our passion about the industry of the future, don't miss this opportunity to meet us and exchange thoughts on future opportunities and challenges!

Looking forward to seeing you there!